China is reporting 87 new confirmed coronavirus cases for Thursday, 23 December.
The figure is a slight decrease from 100 reported a day earlier, its health authority said on Friday.
Of the new infections, 55 were locally transmitted, including 49 in the northern city of Xi'an currently under lockdown, according to a statement by the National Health Commission, compared with 71 from a day earlier.
China reported 26 new asymptomatic cases, which it classifies separately from confirmed cases, up from 19 a day earlier.
There were no new deaths, leaving the death toll at 4,636. Mainland China had 100,731 confirmed cases as of 23 December.
Ecuador has declared Covid vaccination will be mandatory after a marked rise of infections and the arrival of new variants of the disease.
The government said Thursday that only Ecuadorians with a medical condition that could be complicated by vaccination will be exempt. Those people must provide documentation.
Officials say the order comes because of an increase in coronavirus infections and the circulation of new variants such as omicron.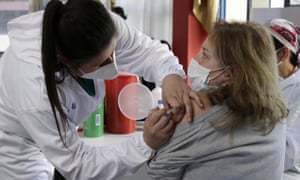 Ecuador says it has enough vaccines to immunise the entire population.
As of Tuesday, about 77% of Ecuador's 17.3 million people had been vaccinated. About 33,600 people in Ecuador have died from Covid.
Earlier this week, the body overseeing health policies to combat the pandemic decreed that vaccination certificates must be shown to enter restaurants, cinemas and other public areas.
New York mayor Bill de Blasio has announced new restrictions for the city's planned New Year's Eve event in Times Square.
Viewing areas that normally accommodate about 58,000 people will be limited to about 15,000 to allow for more distancing, and everyone in attendance must show proof of vaccination and wear a mask.
"There is a lot to celebrate and these additional safety measures will keep the fully vaccinated crowd safe and healthy as we ring in the New Year," de Blasio said.
On Wednesday, the city set another record with 22,808 new Covid cases, though a true comparison is difficult due to discrepancies in tests available.
Hello it's Samantha Lock back with you on the blog this Christmas Eve.
I'll be bringing you all the latest Covid developments from across the world.
Let's start with the news that New Year's Eve plans in New York will be scaled back amid fears of a surge in Covid cases. The annual celebration will still go ahead as planned although the number of attendees has been slashed. Several countries including Greece, Italy and Malta have also scrapped planned New Year's Eve events.
An Oxford University lab study on AstraZeneca's vaccine, Vaxzevria, showed that after a three-dose course of the vaccine, neutralising levels against Omicron were broadly similar to those against the Delta variant after two doses.
"As we better understand Omicron, we believe we will find that T-cell response provides durable protection against severe disease and hospitalisations," Mene Pangalos, the head of AstraZeneca's biopharmaceuticals R&D said, referring to a critical component of the immune system that respond to fight infection.
Here's a run-down of all the Covid news you may have missed:
Europe
In England around 1.2 million people were infected with Covid last week, or 1 in 45 of the population – a pandemic record. London estimated 1 in 30 people were infected last week.
UK health secretary Sajid Javid says there will be no further announcements on Covid restrictions in England before Christmas.
Germany's health minister said he expects a surge in coronavirus cases around new year and people will probably need a fourth vaccine shot.
Germany also confirmed the country's first death due to the Omicron variant.
Greece banned public Christmas and New Year's Eve festivities and mandated mask-wearing in open spaces. The measures will come into effect on Friday morning.
Italy is planning to tighten restrictions including making mask wearing mandatory outdoors. The country has also banned public New Year's Eve celebrations.
Malta will ban all events where attendees are standing not seated, except weddings and funerals, from 27 December.
Nightclubs in Scotland are to close from 27 December for three weeks.
Denmark will require foreigners entering the country to provide a negative Covid-19 test from 27 December, regardless of vaccination status.
Montenegro's president, Milo Djukanović, tested positive for Covid-19 after being in contact with an infected person.
The Spanish region of Catalonia will introduce a night curfew on Thursday.
United States
Emergency Covid testing sites are being set up in hard-hit areas across the US.
The US Supreme court will hold a special session on Biden's nationwide vaccine-or-testing Covid mandate for large businesses and a separate vaccine requirement for healthcare workers.
The US Food and Drug Administration authorised Merck's antiviral pill, molnupiravir, for Covid-19, after giving the go-ahead to a similar treatment from Pfizer a day earlier.
Asia
China locks down 13 million people in Xi'an after detecting 127 Covid cases. All residents are barred from leaving their houses except to buy living necessities every other day or for emergencies.
Organisers of the Beijing Winter Olympics said they expect a "certain number" of Covid-19 cases in China due to foreigners arriving for the Games.
South Korea set a new record for Covid deaths on Thursday.
Australia reintroduced Covid curbs such as mandated mask wearing indoors, capacity limits and QR code check-ins to cover most of the population on Thursday as daily infections hit a fresh record.
Australia will also shorten the interval for people to receive their booster shots to four months from five from 4 January.
South America:
Ecuador is making vaccination against the coronavirus mandatory.
Middle East
Covid infections are rising again across the six Gulf Arab states after months of low or falling figures.